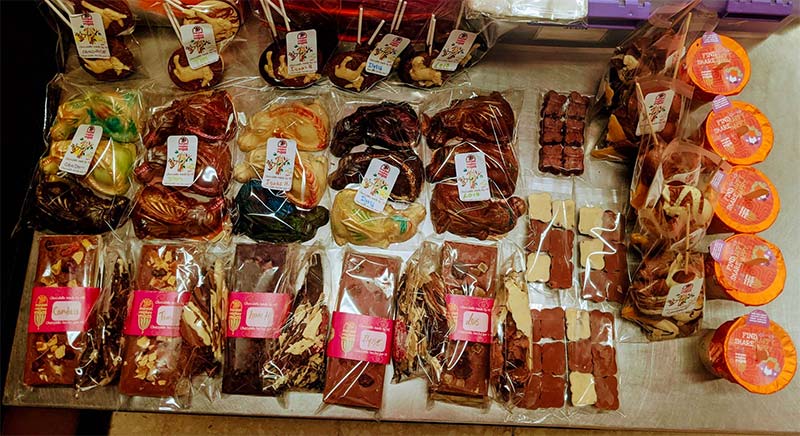 DESCRIPTION - We start off with a guided tour of the Chocolate Museum in which you get to explore the fascinating origins of cacao, including the little-known key role of Spain in the history of chocolate!
Enjoy the tour whilst sampling a selection of our delicious handmade & ethically sourced artisan chocolates paired with a glass of our organic wine or cava (or a delicious freshly prepared mocktail, in the case of children or anyone who doesn't drink alcohol).

From here, we head to the chocolate factory for a masterclass in chocolate-making made easy & fun by your Mayan Monkey Mijas hosts :)

1. Become a Bar Designer!
To begin with, make your own unique "Deco Bars" whilst learning to design, mould & decorate.
Choose from dark chocolate, white chocolate, regular milk chocolate & vegan milk chocolate as a base for the bars. In addition to the chocolate, select from a delicious assortment of 54 different ingredients with which to top your bars:

- nuts (e.g. pistachio, almonds, cashews, hazelnuts, walnuts)
- dried fruits (e.g. cranberries, papaya, coconut, kiwi, cherry, aloe vera)
- seeds (e.g. poppy, sesame, sunflower, linseed)
- essential oils (e.g. bergamot, mint, lemon)
- spices (e.g. chilli, ginger, nutmeg, matcha)
- chocolate drops & cacao nibs

2. Make your own box of Soft-Centre Chocolate Bonbons!
We take you through all the steps & techniques of bonbon creation.
Casing is the technique of creating a chocolate shell thin enough that the chocolate breaks easily, and thick enough so that there is a wonderful contrast between the chocolate and the filling.
You will learn how to marble the bonbon shells, using liquid chocolate.
When it comes to fillings, there is such a huge selection on offer, and they are handmade onsite at Mayan Monkey Mijas. We have that many on offer that, if you wish, you can pretty much put a different centre into each bonbon! Take a look at the options:

- Passion fruit Caramel
- Argentinean Caramel
- Red Wine Caramel
- Pistachio Chocolate Praline
- Hazelnut Chocolate Praline
- Chocolatey Salted Peanut Butter
- Chocolate Nougat
- Chocolate Tahini
- Poppy Seed Chocolate Cream
- Caramelised White Chocolate
- White Chocolate Ganache
- Dark Chocolate Ganache
- Milk Chocolate Ganache
- Vegan Chocolate Ganache

Once the bonbon shells have been filled, you will then seal them with chocolate....and perhaps even decorate the base, eg. a piece of pistachio or candied fruit ;)
As soon as the bonbons are set, you will learn to carefully demould them and then decorate them using natural colours (oxides).

3. Robes of Chocolate
In this chocolate-enrobing segment, you will coat luscious strips of mango and freshly made cream truffles in chocolate and, waste not, want not: the remaining chocolate in your dipping cup becomes a hot choc on a stick, to which you can add warm milk at home :)

4. Bean-to-Cup
Learn to make the most exquisite hot chocolate from your own freshly-roasted cacao beans. It really is THE BEST hot chocolate you have ever tasted! During this hands-on session, in which you get to Roast, Shell & Grind cacao, you will also discover the theory behind the transformation of cacao into chocolate, including an overview of the processes in both the cacao farm and the chocolate factory.

DURATION - 1.5 hours

WHAT YOU TAKE HOME - Chocolate to enjoy on-site per person:
- During Museum Tour: wine OR cava or mocktail (1 glass p.p.) + chocolate (1 bonbon, 4 pieces of chocolate bark p.p)
- During Workshop: hot Chocolate made freshly from the cacao bean - as much as you like!

Chocolate to take home per person:
- Box of chocolate bonbons (24 pieces)
- Deco Bars x 3
- Chocolate-dipped fruits x 3
- Chocolate truffles x 3
- Hot Choc on a Stick x 1

PRICES : 2-10 participants: 99.95€ pp
11+ participants: 89.95€ pp

OPTIONS : Thrill your child with a personalised book which is presented at the end of their workshop for just 29.95€ (48 page full colour) or 19.95€ for a colouring book version.